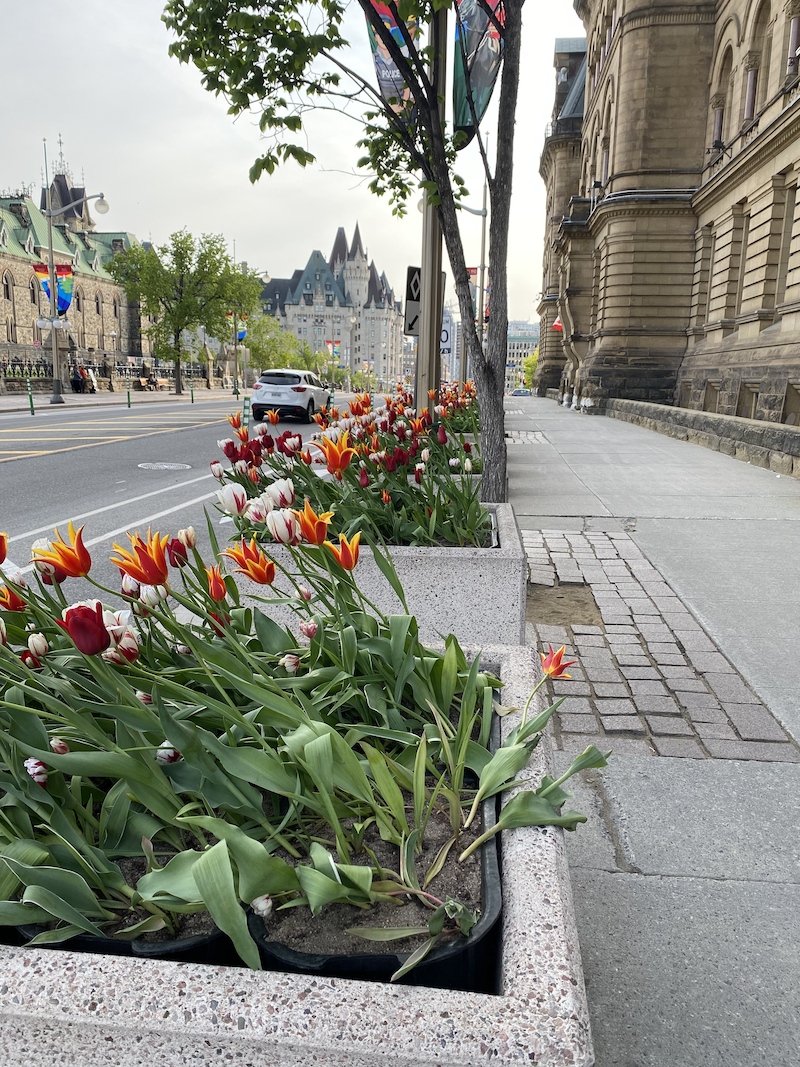 This year I attended the BSDCan 2023 conference in Ottawa, Canada. This was the first time I've attended a BSD conference and I had a wonderful time.
Ottawa is a charming city with a rich heritage. It isn't overly challenging to navigate, given that it serves as the capital of Canada. Embarking on an early morning stroll along Wellington Street, flanked by government buildings and adorned with tulips on a sunny morning, constitutes one of my favorite memories from the trip.
Remarkably, the weather remained favorable for the majority of the trip. There was only a little rain, during which I found myself slightly dampened while exploring the Byward Market in pursuit of a late-night treat. My quest led me to a French bakery offering generously-sized chocolate chip cookies that satisfied my craving entirely. After returning to my hotel, I managed to dry off, savor my cookie, and enjoy a can of Canada Dry while watching the end of "Beverly Hills Cop" en français.
The smartest thing I did all trip was attend the 'new to BSDcan' intro meeting run by Michael W. Lucas on Thursday evening. Michael described BSDcan traditions and expectations and gave a general sense of how the conference usually plays out. Toward the end of the meeting, Michael facilitated attaching newbies to veteran BSDcan attendees. I was fortunate to be assigned to Peter Hansteen (Book of pf fame) who showed me the ropes and made introductions for me at the pub.
I am pleased to report that the conference itself was very enjoyable. The conference takes place in multiple locations. All of which were an easy walk from my hotel.
University of Ottawa (in the Desmarais building)
Hacker Lounge (in University housing)
Sens House (it took me awhile to find it because the signage was missing but the hostess of a next door restaurant pointed me in the right direction).
The talks were all very informative. I really enjoyed Corey Stephan's talk on using the BSDs in an academic setting for scholarship. Corey advocates for the use of open software not just in the datacenter of the academic institution but also on workstations for the faculty.
Personally, I found his arguments interesting since I spent much of my early career working in university information technology departments and often had to deal with the interesting ways faculty would stumble into malware on their Microsoft workstations.
Corey's use of the spectrwm window manager during the presentation intrigued me enough to give it a whirl. I liked it so much that it's become my primary WM on my BSD / Linux systems.
Warner Losh's talk on using Linux based coreboot to boot FreeBSD was also very interesting. Coreboot is fascinating because UEFI has always struck me as a good idea that's often poorly implemented. Coreboot replacing the ugly bits of UEFI is a great idea but requires turning your computer into a Linux-only system.
Warner's work allows you to get the best of both worlds. A non-crappy firmware for your computer plus the ability to boot FreeBSD.
Toward the end of the conference, I engaged in a delightful conversation with Kirk McKusik regarding his contributions to FreeBSD and life in general. Truthfully, the most gratifying facet of attending a BSD conference lies in partaking in the "hallway tracks" that unfold between presentations. Typically, attendees gather and engage in conversations, sharing their affiliations with the BSDs and discussing the aspects that captivate their interest the most.
Everyone was incredibly welcoming. I'll definitely be back in 2024!